new york - jessica safran
Starting Up, High Up
Standing in the offices of NTT-AD (USA) Inc., I cannot help noticing that there are windows everywhere. Not the ones on the computers. I'm talking colossal wraparound fortieth-floor windows presenting an awe-inspiring NYC skyline. "It includes the Twin Towers and the Empire State building in one vista," points out Kaori Murata, executive director of creative and marketing services.
NTT-AD (USA) is one of Nippon Telegraph and Telephone (NTT)'s properties. Let's decode the name. The "AD" in NTT-AD (USA) stands for Advertising, and it is not a division or department of NTT America, whose Park Avenue headquarters it shares. It is a subsidiary NTT company, founded in 1991 as an advertising and new-media vehicle to focus on content. While the company runs independently on a day-to-day basis, its overall direction must be approved by NTT headquarters.
Katsumi Nakata is NTT-AD (USA)'s president and CEO. He is always on the move, but I caught up with him to talk about the struggles and challenges of building a company in New York. The quiet intensity he exhibits when listening to others and the candor with which he speaks are immediately apparent. He has worked with NTT since 1980, originally working in human resources policy creation. He joined NTT-AD in 1994.

Kaori Murata came to NTT-AD as a client looking for a web-hosting company in December 1995. She began to work full-time last October to help Nakata refine the company's vision. Her sensibility has had a positive impact, and she and Nakata seem to make a good team. Murata, a graduate of NYU's Interactive Telecommunications Program (ITP), is responsible for creative content, which includes gathering diverse artists, designers, programmers, and a host of other collaborators. Her contributors reflect the diversity of cultures in their work: Japanese and American , corporate and small business, uptown and downtown. As an executive of a Japanese company in New York, Murata sees forging strategic relationship with the local creative community as crucial to NTT-AD's future.
Part of the challenge facing Nakata and Murata is to take the NTT brand to a new level as a "cybermarketer": a public relations/marketing company and online content provider. When asked about the pros and cons of realizing an independent vision in the context of a large corporation, Nakata pauses. "There are very few constraints. They won't interfere. They want to support us. One of the disadvantages, however, is that I have two assignments: I am also director of government relations , which means I have to go down to Washington, DC, a lot, and when I am there, it means I am not here. And these jobs have nothing to do with each other." (When NTT employees are sent to foreign countries, they often find themselves multitasking, because NTT considers them valuable and wants them to take on more than one role.)
As for current projects, they are working on marketing strategies for a new streaming video software developed at NTT headquarters in Japan, called SoftwareVision , which has not yet been aggressively marketed in the US. They also have the template for 101, their experimental website; they are gradually developing 101 into a bilingual cultural web magazine in addition to a vehicle for new media and NTT press information. When discussing the multitude of NTT websites, Nakata explained that the original NTT website is the oldest site in Japan. NTT has already made web history.
Commenting on the differences between Japanese and American cultures, Nakata observes that Japanese generally don't like being cut off from a group. "People may think that we are a homogeneous society, but we are also adapting American ways of communicating and conducting business. It has always been important for the Japanese to conduct business face to face, but we are getting used to doing things a lot more by fax and email."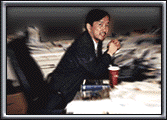 Both Nakata and Murata talk enthusiastically about New York's extreme energy. They see drawing on it as essential to the success of their business.
Talk turned to Silicon Alley, where a heavy concentration of new media businesses can be found.
Murata comments on how location influences work. "Creative work is not a fashion, it's conceptual. It's important to feel that energy downtown, but I live there, so it doesn't bother me that we are not working there." Looking out the window, she says, "I find it inspiring here: being a part of this small island with these huge intimidating buildings."
For Nakata, there are times when being in a glass skyscraper does not compensate for a sense of isolation from his professional community.
"I think in a way Silicon Alley is a kind of 'establishment' in this business, and we are not. It might be easy to think of us as 'establishment': we are surrounded by law firms, accountants -- not to mention NTT. It's kind of inside-out. It is good for some clients to have NTT as a partner: it is a big, safe company." He continues, smiling, "at some point we will have to crush our clients' perceptions. We are different from NTT."
Nakata may be right. Money, position, and connections may not provide the guarantees they once did. In this mercurial new media world, building brand success while simultaneously observing corporate traditions may indeed be the riskier business.
jenb said:
I'm still a long way from taking the leap to calling myself a San Franciscan. I still feel like I'm just visiting, and I'll always be a New Yorker. My good use for a displaced NYer? Well, that's easy! A displaced NYer can always be counted on to give it to you straight when everyone else is doing the placating, non-confronational, "don't forget to breathe" schpiel.
Most Active Topics:
Topic 8 Only in New York...
Topic 28 Bad ideas of the twentieth century
Topic 25 The Psychologist is IN...