new york - jessica safran
A Tale of Two Cities: New York in Berlin
In January I traveled to Berlin, where I used to live not long after the fall of the Berlin Wall. While New York is the home I came from, Berlin is the home I found. In terms of size, energy, and their relative importance as centers of national activity, the two cities are similar. And yet, as a New Yorker exploring this foreign city, there are of course basic differences. Let me share with you some first impressions of my second home.
Smoking
At Berlin's Tegel airport, anybody who smokes has a cigarette in hand, puffing away in the baggage claim area (where smoking is supposedly forbidden). Not only are travelers smoking, but airport security as well. Go into the U-Bahn, the city's subway, where no smoking is allowed: you'll find the train tracks littered with cigarette butts. The restaurants and cafes are not required to have no-smoking sections. In New York the topic "Smoking Restaurants We Love" might be something to get passionate about; in Berlin, the no-smoking areas I have encountered are usually only in the vicinity of people who have recently quit: sometimes, in order to stay that way, their only recourse is to become passionate non-smokers.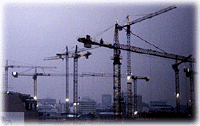 Change
In Berlin, check out Potsdamer Platz. Once a dead zone near the Berlin Wall, it's now a huge crater from which a skyline of silhouetted construction cranes shows the promise of regeneration to come. In New York, the skyline isn't changing as rapidly -- but Times Square is.
Telecom
Many people in Berlin use pocket cellular phones or Handys, as they are called. It is strange to watch them walk and talk through the streets of the former East Berlin, where many buildings pocked with bullet holes from World War II have suffered years of neglect.
For a long time after the Wall fell, it was literally impossible to get a telephone line set up in East Berlin. In Berlin it can take many weeks to get a telephone through Deutsche Telekom, currently the only telephone service provider in Germany. However, competition is growing in the cellular telephone market. Deutsche Telekom has a cell network, but there are several private cellular networks, and many cellular providers. The cell market in Germany is fairly deregulated, while the wire telephone service is still predominantly a government monopoly (though not for much longer -- Deutsche Telekom has already sold 25 percent of its shares to the public.) Can you imagine waiting eight weeks for telephone service in NYC? Three days is my limit.
Which leads me to the next logical comparison between Berlin and New York.
Dogshit
In New York we have the pooper scooper law. I've seen this enforced by people on the street. New Yorkers have a very low tolerance for dog owners who fail to attend to the disposal of their pet's waste. (We do generally assume that the fecal matter we see on the streets is of canine origin, don't we?) Berlin (specifically former West Berlin) is a city of dog owners -- a conclusion you'll quickly reach if you walk around much. In fact, stepping in Hündescheiße is part of life in Berlin. It may be happening even more since people are too busy talking on their Handys to look down.
Subway
In Berlin there are no turnstiles in the U-Bahn. Yippee! Just ticket machines and time stampers. No physical barrier is needed to make you pay the fare. Talk about the honor system: there it means, honor the rules. Many people admit to honoring their empty wallets as part of their system. It is easy to ride without paying, but you have to keep your eyes open: "controllers" patrol the trains and may request to see your ticket. If you don't have it, you'll pay a fine. Imagine a New York transit cop asking you if you paid at the turnstile (you couldn't prove it anyway). Ever seen a token clerk go after someone who jumps the turnstile? Not me.
Electric Minds
I first encountered David Hudson in the Berlin topic of the Frankfurt conference. It was a treat to have an eminds f2f in Berlin.and to trade stories about the two communities we have in common.
In conclusion, how about some...
Beer?
After several years of testing, I reached the conclusion that beer in Berlin the beer is stronger than it is in New York. And sometimes it's cheaper than water. "Beer" sounds the same in German as it does in English. This may be helpful as a survival mechanism if you speak no German and someday find yourself thirsty and lost in Germany.
jenb said:
I'm still a long way from taking the leap to calling myself a San Franciscan. I still feel like I'm just visiting, and I'll always be a New Yorker. My good use for a displaced NYer? Well, that's easy! A displaced NYer can always be counted on to give it to you straight when everyone else is doing the placating, non-confronational, "don't forget to breathe" schpiel.
Most Active Topics:
Topic 8 Only in New York...
Topic 28 Bad ideas of the twentieth century
Topic 25 The Psychologist is IN...
Also in New York:

Starting Up, High Up
Jessica Safran scales the midtown heights to visit a Japanese-owned new media agency bent on surviving in New York.

An Alternative Music Knitwork
Mark McClusky turns a bunch of nights of great music into a Jam report on the online and offline action at New York's Knitting Factory.

A Tale of Two Cities: New York in Berlin
New York Jammer, Jessica Safran visits her second home, Berlin, and finds it more wireless than smokeless.