new york - jessica safran
Welcome to Televerse

Walk in, take a seat on a yielding couch, sink into it. Sip your drink as you glance at the heavy red curtains that accent the room. At first you might mistake this place for yet another Village bar designed to look like someone's antiquish, overstuffed-and-velvet-upholstered living room; the lights are dim, the atmosphere chic and subdued. Then you notice the computer screens. But that isn't all. It's eight o'clock on a Monday night at the @Cafe, and the theme music from "Televerse" begins to play. One by one, live actors enter the room and, speaking in character, recapitulate last week's episode and hint at what's in store this week.
The story is a noir mystery of sorts with a contemporary, computerized twist. Televerse is peopled by eight major characters and at least three recurring guests. Some plot threads:
Lee Parker, ex-violin prodigy and current host of the Midi Beat poetry night, is being stalked via email and snailmail by the psychotic Fiddler DD. Bartender Perry Caulder, who secretly dispenses advice to the lovelorn as Poppa Love, is being cajoled into giving millions of dollars to the mysterious Nigel Quartermain, who claims to have technology that will allow Perry to communicate with his dead wife Sarah. Kickboxer/poet Carrie St. Claire is in love with transvestite Dale Denver, who in turn is dating Carrie's ex-husband, Ira. As the actors perform and the audience reacts, everything is recorded. At the actors' feet, a large monitor displays captions or freeze-frame images of the same actors in full costume.
When you visit Televerse on the web, you can listen to the episodes (recorded live each Monday at the @Cafe and posted to the site the following Friday) and view their various navigable scenes via QTVR. Some aspects of Televerse resonate with familiarity.The QTVR scenes are reminiscent of Renaissance paintings that use the device of continuous narration, where one character appears two or more times in a single image, and several events seem to take place simultaneously.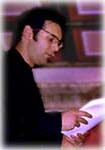 The man behind it all is Erik Bryan Slavin, who describes Televerse as "an interactive audio serial with stuff to look at. It is recorded live in front of a studio audience."
Got that? On the web site, each episode contains eight to fourteen scenes of a minute or two each. After each scene, the viewer can choose which character to follow into the next scene. Presently, the beta-test version on the web works intermittently. Look for the series' debut in the first quarter of '97.
"I have acted for as long as I can remember. I love it. I'm hooked," says Slavin, who has supported his acting habit with "computer-geek stuff rather than waiting tables." He attended San Francisco Art Institute's graduate program in Performance Video and Computer Arts, and was teacher's assistant to Michael Naimark, who was instrumental in the creation of the Aspen Movie Map.
What inspired Slavin to do Televerse? "I wanted to use Quicktime VR with synchronized audio to tell a story," he explains. Televerse began taping in July 1996. After several weeks, Slavin and company decided that QTVR was an obstacle to viewer access, specifically the issues of navigable space, nonlinear storytelling, and bandwidth. The show was revamped for low bandwidth, targeting a broader audience. New episodes began in October; one of them is up on the web.
When asked how this compares to a more traditional production, Slavin responds: "The easiest thing about this piece was that the actors are able to work with scripts in hand, which reduces the amount of lead time and the amount of rehearsal time. The hardest thing is that we were inventing the medium as well as the content and there were almost no production precedents to fall back on."
As for the future Slavin would like to see for Televerse: "A tremendously popular and lucrative one. Offers of films, money, sex, illicit drugs, fast cars, hotel suites, talk show appearances, travel..." Slavin is very flexible.
Televerse is the kind of entity a content provider should check out. It is formatted for digital transmission, and serialized to keep you coming back for more. It's one example of theater projected into the incorporeal realm of the web, and as complex as the technology might be at times, this prototype has serious, not to mention comic potential. Stay tuned!
jenb said:
I'm still a long way from taking the leap to calling myself a San Franciscan. I still feel like I'm just visiting, and I'll always be a New Yorker. My good use for a displaced NYer? Well, that's easy! A displaced NYer can always be counted on to give it to you straight when everyone else is doing the placating, non-confronational, "don't forget to breathe" schpiel.
Most Active Topics:
Topic 8 Only in New York...
Topic 28 Bad ideas of the twentieth century
Topic 25 The Psychologist is IN...