new york - jessica safran
itp: information to process at nyu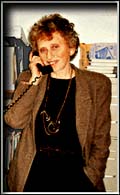 We are sitting in Red Burns's office, where she has just gotten off the phone. As the Chair of the Interactive Telecommunications Program (ITP), a two-year graduate program located at New York University's Tisch School of the Arts, she is a small woman with a big presence. We are talking about the changes ITP has been experiencing since May 1996, when I graduated. As Red begins to list new projects, I think of the first day I met her, three summers ago. She was interviewing me for my graduate assistantship, and I would lie if I said I wasn't a bit intimidated. It wasn't easy being at ITP, but I look back positively on the whole experience. The department as I know it is already a memory, though. There are big changes.
ITP began in 1979 and grew out of an organization called the Alternate Media Center, which used technology as a means to address social concerns with telecommunications using cable TV and video. Since no one at the time could have predicted the rise of personal computers, they were incorporated once it became clear that they were becoming telecommunications and production tools. As of this year there is a greater emphasis on design in the curriculum. "Since we accept students from such varied disciplines, we discovered many who did not have a trained eye," Red explains. The curriculum had to adapt to serve an ever-changing set of needs. Many students come to ITP to experiment with production techniques and explore theories concerning media and society, focusing on the ethical and aesthetic considerations of technology. ITP graduates are starting their own ventures, exhibiting in galleries, working in museums and universities, among other things.
The department is hosting new projects that have begun recently. The Interval Research Corporation is sponsoring a creative research project where selected ITP postgraduates are mandated to experiment freely in creating designs and applications. Microsoft is funding a student project in the development of virtual worlds using VRML. There is also a mobile web project in development which is working toward integrating the web into the real world.
The biggest project of all is the renovation taking place; it will result in the addition of 5,000 square feet and will include an exhibition space, which ITP presently lacks. Red pops up out of her chair. "Let me show you the new space," she says eagerly. I follow her down the hall to the former video editing room, a small room near the elevators. We go through this room to a door I hadn't noticed before. Suddenly we are walking through a construction site with walls of some rooms already built, and Red is giving me a tour as if she has built it with her bare hands. "Are you keeping up with me?" Barely. She is fast. "I am!" I say.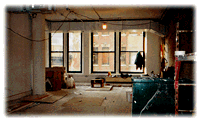 "And this will be the blue screen studio. And that is the physical computing workshop. Up ahead is the exhibition area." I'm impressed. We never had actual *rooms* for these activities before.

"My main concern was that people would have a space to hang out. This is important to provide, since many ideas are formed, many collaborations and breakthroughs occur in the hallways at odd hours." True enough: what ITP student hasn't pulled all-nighters? There's an inevitable sense of camaraderie that develops as people barter skills, solve problems and eat junk food at 4:30 in the morning.

One of the most difficult things about ITP for me was trying to figure out how to contextualize it. Unlike most graduate programs, ITP as a department -- and a discipline -- is younger than even its youngest students. It is like looking through the wrong end of the telescope. Or maybe it is the right end, and we are trying to get used to it.

I challenge Red: "I've heard you say we are not an art school; we are not a vocational school. What are we?"

"We're a group of people trying to understand the attributes of this new medium which don't copy old media. This medium isn't defined yet, and we are trying to define it. It means taking risks and experimenting."

Maybe Red simply doesn't think of ITP as a "school" per se. Perhaps its fluidity and adaptability are part of what encourage students to take their own initiative. The search for a clear definition is part of the growing pains of a successful program such as ITP. This much is clear: Red prefers an atelier model to a school model, and emphasizes ideas over technology.

Back in her office, Red speaks in general terms and with sincere enthusiasm about the future of ITP. "There's a certain kind of energy here which is exciting because things just keep changing. I feel like I am the luckiest person in the world because I get to hang out with young people. I get to make spaces for people to make things in. It's fascinating. I'm so curious."

So am I.
jenb said:
I'm still a long way from taking the leap to calling myself a San Franciscan. I still feel like I'm just visiting, and I'll always be a New Yorker. My good use for a displaced NYer? Well, that's easy! A displaced NYer can always be counted on to give it to you straight when everyone else is doing the placating, non-confronational, "don't forget to breathe" schpiel.
Most Active Topics:
Topic 8 Only in New York...
Topic 28 Bad ideas of the twentieth century
Topic 25 The Psychologist is IN...