san francisco - mark petrakis
NetNoir: The Many Shades of Community
Malcolm CasSelle, co-founder of Net Noir, came by recently for a realtime chat. Our friendship goes back to 1994, when he was working for Morph's Outpost. I liked him right away for his clear intelligence and energetic spirit. Not long after we met, CasSelle and E. David Ellington started NetNoir determined to bring an Afrocentric nexus to the Internet.
Working through America Online's Greenhouse project, they constructed a fundable business plan, launched on AOL on Juneteenth, 1995, and quickly found a large and devoted audience. (Their website opened in February of 1996)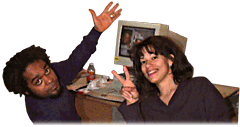 The Art Department-Sean and Lettie
Though NetNoir may seem like an obvious direction now, it was a different story two years ago.
"What was going on at the beginning?"
"I was bouncing around the country, trying to convince advertisers that our community would be an attractive demographic. There was a deep lack of understanding about the power of the African American online market, about how much they actually spend. Our demographic is an incredibly attractive consumer, but it wasn't easy to make that clear then, so there were education issues in terms of African Americans, and of what is the Internet."
Where NetNoir has gone in the last year and half is directly to the heart of the movement to online community. Their way in was on that Route 66 of Internet traffic -- AOL chat. I ask Malcolm to put this phenomena into perspective.
"There's open chat, and there's scheduled, programmed chat, and tens of thousands of folks move through them both every week. Sometimes six programmed chats a day. We have a community leader who is in cyberspace all day long, from Tuscaloosa, Alabama. We have a program person who coordinates the larger picture. We have 50 or 60 volunteer hosts.
African Americans are generally pretty conservative. When you get these hotbeds of debate, you get a lot of activity. We had 20,000 people come to NetNoir on the day of the Million Man March. And O.J., obviously, just kept on going."
When you started out, did you know you were getting into the conversation business?
"We started out with a digizine model, but we soon realized that this medium is not about giving people a unified point of view about something. Rather, you throw the topic out there, present a couple of ideas, and then let them go at it. That's really what it's about; what's going on right now. Go to the site. Who's on it -- right now! Who's in the chat room -- right now! That's how we find the hot topics in our community."
The biggest changes in the last year and a half?
"Things like NetNoir in different spaces have completely mushroomed. I mean, the exact same model -- Asian, Latino, Gay/Lesbian, Women. When we started, there were one or two other vertical markets -- interest groups. Now there are twenty. They can be specific or general, based on ethnic group, sexual preference, gender, interest, nationality. We're glad to see that expansion: it helps us justify our business model and what we are trying to do with our brand.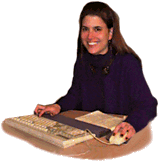 Sports Producer-Kim
"We couldn't do deals with other web sites a year ago, because our related businesses didn't know what the web was. Now that folks like Essence have a website, we can do something together. We knew they would come around, because by the time they got their act together, we knew we'd have a large site with lots of traffic."
If the free marketplace of ideas is your practice, what's your passion?
"I like speed: fast cars, motorcycles, extreme sports, snowboarding, that kind of stuff. That doesn't really hit our audience. The biggest passion our audience has is dealing with certain hot buttons in the context of society. A lot of people like to take current topical events (this month, it's Ebonics) and go off on it. So, people will talk about it, we'll bring on interviewees, they present information, and we'll have interactive chat."
What do you see as your role in driving cultural change?
"The whole reason we started NetNoir was: one, to have a successful business and two, to satisfy the cultural imperative. Obviously you can't do one without the other. We felt it was important to digitize the culture. It was about the software driving the hardware. Two years ago, there really was no place for people to go if they were looking for something geared toward people of African descent. It was a chicken-and-egg problem."
What about new and more media-rich technologies?
"Technology-- it's changing so fast that it's almost better to not do anything. The market changes so quickly, you kind of want to leapfrog rather than getting ensconced in something and then have it change three months later. We don't know which technologies will stick around. We don't want to go develop multimedia content and not have it be usable to the majority of our audience."
Is the fact that you are an African American business less of an issue now?
"From an investor's point of view, we are just a business. From an advertiser's point of view, they just care about how many folks we're reaching, how often, and how much it costs to get a piece of that. The fact that we focus on African American culture, that our company staff is diverse: those are just attributes of our company. Ultimately, we must go up against every other business."
What's down the road, Malcolm? Do you see any quantum leaps?
If there's any quantum leap, it's not broadband; it's not even wireless. It's not gonna change a whole lot in the next three or four years, in terms of what the consumer can do. It's not going to change a lot in terms of what our business can provide. Right now we have tools to deliver multimedia content, but it has been a constant evolution as to how that content looks and feels, how it's mixed. To me the quantum leap is figuring out how do you deliver things in a way that's relatively cost-efficient, but that's truly compelling at the same time, as opposed to high-production stuff which is great to look at, but isn't really so compelling over time."

So, take it to the bottom line, if you would.
"We have to be able to consistently generate hits -- that's the bottom line. Our strategy is pretty straightforward: content, navigation, distribution, branding. Distribution is the most important thing. That's why AOL was great for us. You can't knock that. We are the Kwanzaa area. We are the Black History Month area. We are the Martin Luther King area. That's NetNoir -- it's our own channel."