san francisco - mark petrakis
pARTy/SCIENCE & the free world.
San Francisco is where I have pillaged many a night. This city has always had the air, for me, of some great pre-apocalyptic street party, all dressed up and on its way to or from someplace too crazy to explain. In a way, a good party is an instant community of sorts, albeit a fly by night one. But it's just that evanescent quality that makes parties so seductive. In the brief period of an evening's time, we are given the chance to apply the sum total of a lifetime of social lessons, and in so doing to once again, come face to face with our constant cravings for companionship, fun, success, and love.

Wherever you go, there you are.

Let me take you on a little tour. We're going someplace familiar, at least to me. That's because I helped start this party, this occasion called ANON SALON. It happens once a month on a Friday evening in a second story gallery space South of Market, San Francisco.

ANON & On.

Through the front door at the top of the stairs you see a big styrofoam tongue hanging from the skylight in the ceiling. Most people don't notice it right away because there's a slightly perverse puppet collection to the right, some big paintings, and then to the left some neon and a fountain. Behind it, there's a DJ set-up and a stage. There on any given Friday you might hear a didgeridoo band, sing along with a performance artist naked in a barrel, or even encounter the Dobacycle himself, a rubber-faced master of the tap-dance.

Wander around the outer rooms; get your fortune read, your brain zapped, draw a nude model, or steer a VR soapbox racer down a San Francisco hill. If you get there early enough you might even catch Joegh Bullock screaming at his screw-gun, or Marcia Crosby as she hot glues gold foil and Chinese lanterns, jewels, and photos into a pseudo-Buddhist shrine. That's before she drapes herself for the evening in some baby dolls, fishnets, and boas.

It was along with Joegh and Marcia that I started ANON SALON five years ago. We wanted a place where we could invite our various friends and acquaintances to come show their work, and where people could feel free to play, mingle, flirt, chat, dance and laugh. In our world view, talent was what mattered. Whether it was analog and digital talent mattered much less. The line between art and science was always fuzzy. We figured that after a drink or two we could make it even fuzzier, until it just melted away. We called what we were doing pARTy/SCIENCE.

"Science and art belong to the whole world, and before them vanish the barriers of nationality."
- Goethe

Maybe there's a code hidden somewhere in parties. A good one shows you the way to someplace unexpected. It offers up no rules, just suggested routes to freedom. Freedom is always the most attractive guest at a party, and to varying degrees it is there in each of us. The toys, the tricks, the art, the snacks; they're all cool, but just signs along the way.

Intelligent flirtations

We all have those few places in the world where we regularly go and hang out. It's not home. It's not work. It's where we choose to go, in between times of sleep and necessity. So, what about you? What's your idea of a reality worth making true? How do you like your freedom served up? Where do you go to find it? What third place springs to your mind when you're looking for some fun? Who else finds it with you there? What makes it so compelling? How about dropping into CONVERSATIONS, and writing your own little manifesto on the subject. I'll get you a refreshing beverage and meet you over there.
curintu said:
People are both better and worse than they seem. That is, there is far more to even the most simple person than is evident by their personae. People are deep, even the seemingly shallow ones. Everyone is feeling so much more than they let on... I have a friend who has a huge part of her life that is practically unknowable to her loved ones, so there is much that is a very important part of her which they will never see. Imagine the gulf that exists between different cultures. Love is an interesting word. "Please, a little less love and a little more common decency." (Kurt Vonnegut)
Most Active Topics:
Topic 31 SF chat. Come here and chat on line (hopefully!!).
Topic 22 Housing & Apt Hunting in SF
Topic 1 Topic One/ What's up?
People, that's the key
to the life of a place.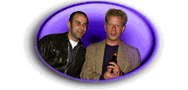 People like Eric and Ken, two robot artists, straight ahead guys. Eric does cyber stuff for Survival Research, also collaborates with Ken who just about invented remote telepresence for the web with projects like TeleGarden.


My daughter, Alexis, looking once again, mature for her age, hugging wiseguy artist, Chris, who can hack his cordless phone to get reception up to three blocks away from the base unit.


Joanne, Queen of something yet to be revealed. But oh, will it not be special? She and Marcia are absolute Nth degree blackbelt fashionists. Five years, never a rerun.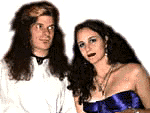 In the how pretty the flowers category, we have Blue Lady costumer Jennifer, with her boldly coiffed friend, Tim.


Alex, a Burning Woman graphic designer who I don't know all that well, but whose smile here outpaces the photons, no?
If you'd like to see more of the people who waltz through this dimension, then please check out the actual Anon website, orchestrated by the thrice blessedly talented Dianna Rawleigh. All you need do is go pARTylive.