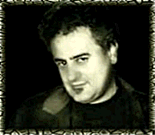 san francisco - mark petrakis
Mark Petrakis makes things happen among people, using technology, storytelling, and deeply polished pataphysical mojo.
A few years ago, my daughter and I were invited to perform in one of his crazy COBRA LOUNGE performance revues . We had only one run-through, and it took place the afternoon of the performance. Four graphics workstations, networked and projected, a complex audio system (a tap dancer, for example, whose taps were MIDI triggers that triggered prerecorded words, enabling the dancer to tap out various sentences). Lighting, cues, costumes, makeup. We didn't get to the final blocking, where the human cues and the technological accompaniments were supposed to synchronize, until a half hour before curtain. We were, to say the least, apprehensive. Mark showed up. He had laryngitis. He was calm.
He whispered, calmly, hoarsely: "We don't have time to test this, so it will have to work on the first try. In fact, everything that happens is part of the show, so there's no way it won't work. Do what you can with what you've got, and it will happen."
It's hard to describe, but there was something in the quality of his voice that made it happen. We all knew it was impossible. It happened. It was a lesson for all of us.
Then there's the "Anon Salon," a regular gathering of digerati and demos in the upstairs gallery space South of Market. Or his "meltomedia" manifestos on the WELL's Muchomedia conference. Check it out for yourself. Mark's our man in Downtown Cybertown, and he's the Producer of WorldWide Jam. Watch him turn this collection of prima-donnas into an online improv ensemble.
20 years in the theater and here I am, footloose in cyberspace. I believe in show business in its most ancient form; magical appearance, participatory ritual, and transformation. I used to write mostly comedies, puppet shows, & operas. For some years now, I have produced an eclectic and electronic vaudeville of new and unusual talent called "COBRA LOUNGE", hosted by my onstage persona, "Spoonman".
As the shows grew more technological in nature, costs rose, and so we do them far less often,which is fine by me. I work in the melt-o-media industry, specializing in story and character-based interface concept and design. Once a month, in my guise as chief researcher at pARTy/SCIENCE, I co-produce a fancy dancy South of Market art party called "Anon Salon".
I am here to have a fine time, to enjoy your company, to tell you what I find worthy of note around these parts, and to listen as you tell us what is happening in your fast spinning world.
Clearly, one aspect that will no doubt remain constant in distinguishing what we will do at Electric Minds from any previous online community of souls, is our commitment to fostering conversation, first among ourselves, and then soon enough, alongside our users.
Hopefully, this message marks just the first step of a conversational world samba that we shall not live to see the end of. Welcome, all of you, and thanks for believing enough to lend us your eyes, your ears, and soon your own words.
As always, drop me a line, pass me a note, click on my world anytime you please.
-mark