london - davey winder
a novel ride underground
Writing about the Internet I get to hear about some peculiar things, but some things are odder than others. Take Geoff Ryman and 253 , a novel for the Internet in seven cars and a crash.
Geoff is an award winning Canadian author who just happens to live in London and works with the Web. His novel "The Child Garden" won a British Science Fiction Association Award, the Arthur C Clarke Award, and the John W Campbell Memorial Award. Other novels, including "The Unconquered Country", "The Warrior who Carried Life" and "Was" have also received critical acclaim and additional awards. By night Geoff is an author, but during the day he earns his keep as New Media Manager at the Central Office of Information helping to design Web sites for Government departments.
Not surprising then, that his latest work not only appears on the Web but really couldn't work in any other format. "What I wanted to do was use the Web to explore modern London through its people." Geoff recalls, "All kinds of things are happening inside and outside the characters, all at the same time. The novel is meant to be ironic. A man sitting on the train may have told his wife he's leaving her for another woman. Two cars along, the other woman is just making up her mind to end the relationship. Hyperlinks make that kind of irony very easy. The art is to keep it subtle and to keep the sense of fun".
And that sense of fun, not to mention the fact that this guy must love a challenge, is displayed in that "253" not only describes the 253 passengers on the train, but does so in 253 words for each one. I love the way that the characters are linked in ways that they themselves don't know, and couldn't possibly see. Only the reader, through the use of hyperlinks, can make the connections. It's not all "fun" though, as you'll discover when you realize that 253 happens on January 11th 1995, which Ryman explains, "is the day I learned my best friend was dying of AIDS."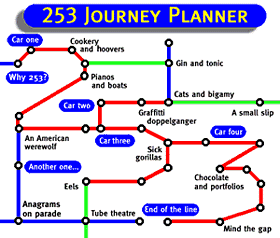 "253 tries to develop the Web in other ways than graphics and advanced coding." According to Geoff, "it's a very simple site". Maybe, but the work isn't simple, it's fascinating and innovative stuff. Although you'll have to visit 253 yourself to see why, and if, those who stay on until the Elephant and Castle* underground stop actually die.
I like the site not least because it avoids confusing flashy coding for worthy work, but also because this is an established and widely recognized author who's actually giving us something of worth, online, for free. That's what the Web is all about, quality and freedom - and Geoff Ryman provides both with 253.

Wavey's parting shot
---
Writing novels for online distribution doesn't always work. Have you actually tried to read a Shakespeare play on the Web? Screens of small text on a white background to dazzle your eyes and frazzle your mind isn't my idea of literary relaxation. Thankfully Geoff Ryman is a Web professional, he knows how things should work, and how to ensure that they do. It shows. 253 has been structured in such a way that it not only works on the Web, but I doubt that it could work as well in any other format apart from maybe CD ROM. He has cleverly split the narrative into 253 word chunks, not too much for the average information junkie surfer to take in, not so little that it glides by without attracting the attention of a brain cell.
I've long said that the Internet will not, ever, be the death of good books. But just perhaps it will breathe life into some new ones. This isn't your normal novel, it's unique, it's different, it's pointless and it's fun. I loved it, I lived it.
madivan said:
Is also another thing is taking into accounting...if is being online, is taking away experience of purchasing album. Is changing beyond recognising. Is ending of "cover art" as is knowing. Could being birth of new era in purchasing music, but is certain death of everything is knowing in old. Ivan Ivanovich
Most Active Topics:
Topic 18 People who hates dancing
Topic 3 London Conference Introductions
Topic 49 New in London

*Elephant and Castle, is a station on the London Underground, so called because according to a footnote at the site, the Infanta de Castille once stayed there.
Passenger 11
Mr Douglas Higbee
Outward appearance
Blandly British, about thirty, plump, moustache, no chin. Black trousers, huge winter coat, blue shirt collar. A large overnight case. Appears to be asleep, except that one eye is open.
Inside information
Mr Higbee is the bar piano player on a cross-Channel ferry. His bag contains a change of underwear, a top hat, and home-produced cassettes which he offers for sale on the top of his piano. No one ever buys them. Like Superman, his costume, a tuxedo, is under the ordinary coat.
What he is doing or thinking
He is trying to avoid having to talk to the ship's magician, Passenger 18, who is also in the same carriage. Douglas has nothing against the magician. They just have to spend a lot of time in the same bar and cabin being professionally pleasant to each other. You hardly want to be pleasant all the way from Waterloo to Dover as well. Douglas finds it difficult to be pleasant.