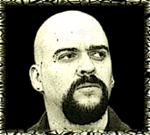 london - davey winder
My first sight of Davey Winder was intense. Wrap-around dark dark glasses. His head was shaved, and he had a black bandana printed with white skulls tied around his scalp. A dozen safety pins through one ear. Black leather jacket. Wheelchair. The first night I met him and his mates, it was made clear that it was impermissible to try to crawl off to sleep before 3 AM. Party animal to the core. He was also a work animal. He used his computer and virtual community as a literal lifeline, to pull himself back into reality after an attack of encephalitis left him unable to tolerate light, unable to read or write, and mostly unable to move. He got a computer to use video games to try to improve the coordination in the one arm he could move. Then he started using a word processor with a spell checker to teach himself to read and write again. I told the longer form of the story in "A Tale of Two Virtual Communities," Chapter Eight of The Virtual Community.
Davey is out of his wheelchair, and no longer requires the dark glasses. He remarried, now lives in the countryside on the SouthYorkshire/ North Nottinghamshire borders, and travels to London weekly. In the last two years, he has had an astonishing eleven Internet-related books published.
Winder is Contributing Editor of PC Pro and Computer Life (UK), as well as an occasional contributor to MicroScope and The Sunday Times. He was recently voted "BT Technology Journalist of the Year" in the UK. Now he's going to give World Wide Jam a faceful of Waveyness at regular intervals: tales of life in digital England.
My name is Davey Winder, aka "Wavey Davey", and 24 Hours in Cyberspace described me as "a cult figure in the cyberworld". But then one UK newspaper described me as "the Barbara Cartland of Cyberspace" - which proves you should believe nothing you read online or off!
In reality I am a 32 year old writer of truths and blatant self publicist. I came to the Net as the result of an illness that left me paralysed and trapped in a wheelchair from which I yearned to escape - I did, straight into the cyber-ether. I gained a reputation as being a rather odd, very anarchic, but strangely compelling figure in the emerging world of UK comms. I helped to create one of the first virtual communities on this side of the pond, on a system called Cix. Having found a medium where I was not only mobile but also listened to, and perhaps more importantly treated as whole again (instead of a fat bastard on wheels), I moved into evangalising about it out there in the "real world". Soon I had found an audience amongst readers of computer mags, went on to become Contributing Editor of .net magazine at launch and then PC Pro and Computer Life (UK) as well. I also helped to found CommUnity (the Computer Communicators' Association), the UK equivalent of the EFF, of which I am proud to now be an Honorary Member.
Along the way I got better, left the chair behind and started writing books. My 15th is published this month. I also started producing and presenting television programmes, and appeared as an extra in the Judge Dredd movie.
Now I write a regular four page Internet column for PC Pro, a monthly Web round up for Computer Life (UK), and various other stuff on paper. On the Web I can be found as Europe's first professional TV Critic online (Davey on the Box) pulling in 1.5 million readers each month (not bad in the UK), writing a weekly poke at the news for the News International owned "Clock" magazine (Wavey's Week), and I still participate in many Cix conferences - my online home.
My aim in life is to win the lottery, stop working, and get my brain wired permanently into the Net for 24 hours per day surfing. Ah - bliss....