frankfurt - station rose
techno frankfurt goes east
Let us take you on a trip through Frankfurt. We will move from west to east, following a littleknown trail of dance music history. The techno clubs of icy, snowcloaked Frankfurt will be our milestones.

At Willy-Brandt-Platz, beneath a repertory theater, lies The Box (formerly XS). This legendary club opened in late 1991; from XS arose now-common terms like "Intelligent" and "Ambient" Techno, as well as "Chill Out." The Orb's Alex Patterson and Mixmaster Morris spun there -- sometimes for as few as ten people. When DJ Mark Spoon (of "Jam and Spoon" fame) sold the club two years ago, it got its new name.

Since Techno/House has gone mainstream in Germany, the once-manageable weekend crowds have been replaced by hordes of rave tourists. But on Thursdays, the Box hosts "Matchbox." The most musically innovative event on the club's schedule, Matchbox signals an emerging trend in the Frankfurt club scene. We call it Frankfurt Goes East.

The tracks' mood moves away from hectic commercial Trance and Rave, away from the aggressive Drum & Bass and the monotonous House, toward a more mellow, psychedelic, speeded-down mix that still finds a danceable direction. It's a demanding task for the DJs -- to merge spheric chill-out sounds with groovy beats, and keep them going all night long.

Exiting The Box, we walk 700 meters east, past Europe's tallest office building (at over 200 meters) to get to the most broadly popular scene hangout, the Helium on Bleidenstrasse. The Helium attracts an eclectic mix of musicians and creatives -- well, it used to. Business types discovered the place about a year ago; they head there in the evenings to ingest some underground air. The Helium remains a cool afternoon stop, though. The ambience is a tricky mixture of Italianate pseudobaroque with deep House and Trance beats, often spun by live Djs.

Another 100 meters down the Bleidenstrasse, we'll find Delirium. Founded in 1992, this shop started out as a hangout for people into electronic dance music, a source of the latest vinyls from Belgium, Detroit, and England. "It's hard to survive these days," Ata (28, a co-founder) says. "People don't have money to buy my stuff any more. The scene is breaking up. The music scene is not as strong as it used to be."
Techno meets Recycling
It's one a.m. Sunday. A ten-minute drive from downtown has brought us to Hanauer Landstrasse 99, and our last stop: a little house called Ostklub. We're in eastern Frankfurt, an area of industrial buildings, lofts, and advertising agencies.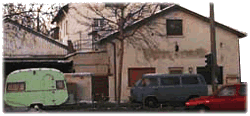 The minuscule Ostklub crouches between two commercial buildings. It's low-tech, nothing upscale here -- secondhand furniture, and not much of that. We like this place a lot.
The owner, Hans Romanov, uses Ostklub as a base for pursuing all kinds of projects. He features the sort of music and art he likes himself. That means live '60s guitar music, House DJs, Drum & Bass acts, '70s DJs -- as well as avant-garde music and art exhibitions. People from the techno/music scene show up, and so do people from the art scene. In scene-conscious Frankfurt, the combination was quite unimaginable before Ostklub. Hans calls himself "an organizer for artists"; that sounds just about right to us.

Hans grew up in Berlin. He came to Frankfurt 11 years ago for no particular reason except that "I like cities where I don't know anyone." Although he plans to leave the city in a few years, to go farther east, Hans is getting interested in the Net now and will remain wired into Ostklub. On this Sunday morning, a strong discussion follows from Hans's complaint about trying to find cool secondhand clothes and furniture. Berlin has a strong alternative/ recycling scene. Here, the vibe is different: the unwritten rule for both sexes is not to be seen in recycled clothes. To most Frankfurt clubbers, secondhand contradicts their wish to flaunt their success. We share Hans's attitude about saving and recycling. It is part of a movement against blind consumerism as well as a recognition of the art and culture upon which our current scene is based. In that light, what is going on back on the fashionable Bleidenstrasse seems oddly passe.
spoon said:
The art world still runs on art that weighs and takes space. The reproducibility of digital art makes it difficult to value. So, if you follow that old model of art as owned matter, it looks one way. If you follow the more recent non-proprietary model of art, then it is the experience rather than the ownership that matters. Following the experience side leads us into the making side. This is something I am covering in my current SF report, how we are all helping to erase the lines around who can make art, and whether or not it needs to be called art, if it's not "sold" in the same way.
Most Active Topics:
Topic 29 Gunafa Café
Topic 28 Phosphoric Brain Massage
Topic 35 Um.....give..me a minute.....SAUSAGE!!!!!