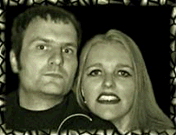 frankfurt - gunafa/station rose
By night, they are Station Rose. Artists, technology lovers, iconoclasts, they discovered each other growing up in Linz, Austria. After a sojourn in Egypt and other travels, a pilgrimage from which their mantra, Gunafa! derives, Station Rose started mixing techno music, computer-generated graphics, real-time online communication, and public performances.
I met them at Cyberthon the seminal late-eighties event that some called "Nerdstock."
They rode the train all night to meet the Rheingolds in Paris, and they stayed in our house in California while we were in Amsterdam. Mostly, we e-mail. They keep their eye on the digital culture scene in Germany and Austria. In due time, they'll move their headquarters to San Francisco or Tokyo.
STATION ROSE was founded as the first public multimedia-lab in Vienna, Austria, by visual artist ELISA ROSE and composer GARY DANNER in 1988. Both have been performing, doing art exhibitions, fashion shows and concerts since the late seventies, and had gained their academic diplomas at "Hochschule fuer Angewandte Kunst" in Vienna, 1987.
In 1988/89 Station Rose did multimedia field research in Cairo, Egypt for almost a year, where they found their slogan "Gunafa" near the pyramids. They did field research in Tokyo in 1993, in the U.S. since 1990.
Station Rose did multimedia performances/solo exhibitions at the "Ars Electronica" festival in 1988, at "Cyberthon" in 1990, at the "Museum of Applied Art" in Vienna 1993, at NGBK institute in Berlin 1991, at "Chromapark", to name a few, and "Gunafa Clubbing" in all important German Techno-clubs, their well respected multimedia-online-event, where they connect to the WELL/Internet since 1992.
In 1991 they did field research on VR with the Austrian Ministry for Science and Art, which resulted in their first CD ROM "Virtuelle Realitaet als Neuer Grenzbereich" in 1992.
Station Rose is online at The WELL since 1991.
In 1991 they moved to Frankfurt, Germany, where they produced 3 audio CDs, 2 CD-ROMs and one CD EXTRA, perform Gunafa Clubbing/Public Brain Sessions, write, lecture and live a Digital Bohemian Lifestyle ever since.
Their homepage got a honorable mention at the "Prix Ars Electronica" in 1995.
Station Rose see the roots of their multimedia language in classic culture as well as in pop culture. They are regarded to be @ the cutting edge in Europe.
Station Rose has been signed by Sony Music/New Media recently.