austin - jon lebkowsky
On a Rock and Roll Fire Truck
In the early 1970s, "album-oriented rock" emerged from the FM radio experiments of the era, and Shawn Phillips's songs were in soft rotation in stations across the country. Stylistically, his music fell between psychedelic folk-rock and romantic ballads. He recorded for A&M Records, toured, lived everywhere and nowhere, and raked millions into A&M's coffers.
By the mid-seventies, though, he had lost his marketability. Though he kept playing and recording, he had just about dropped from sight. Eventually most of his recordings went out of print, and he toured sporadically, playing gigs for the folks who still remembered his music.

Today Shawn is a volunteer fireman in Spicewood, Texas, thirty miles from Austin. He's shorter than my memories of him from concerts in the seventies, and he has clearly aged, but that voice is still recognizable, still distinctive and dramatic. His hair's still long, worn in a ponytail, blonde giving way to grey. He looks less like a troubadour now, and more like a wizard.
Shawn is a Texas native, but his background extends far beyond those borders. His colorful father, Jim Phillips, wrote books and screenplays, including the Robert Mitchum film "Thunder Road." Shawn has traveled the globe, dwelling in exotic locales like San Miguel de Allende, Mexico, and Tahiti. He lived in Italy prior to settling in the Austin area.
Why Austin? Shawn came here to play his annual gig at the Cactus Café a couple of years ago with no thought of hanging around. He jammed with Austin guitarist Van Wilks, and afterward, while they were loading to go, Van noticed that Shawn was ashen, his lips blue. "You don't look so good." Next thing, Shawn was at Seton Hospital in Austin undergoing quadruple bypass surgery.
On the mend but unable to travel, Shawn found a place to live and settled in with his wife, Anastasia, and a herd of cats. He'd been a fireman in the Navy, so when he saw that the Spicewood Volunteer Fire Department needed help, he jumped (slowly, still healing) at the chance. He did light work at first, and today, fully healed, he drives the fire truck.
He's also rebuilding his career as singer/songwriter. Though he's been laying low locally, playing only one or two Austin gigs since his recovery, Shawn's been working to salvage an album recorded in Canada, and a small independent record company in New York has bought the entire A&M catalog for CD reissue. he recently found a funding source for a new album, to be produced by Paul Buckmaster (David Bowie, Elton John, Twelve Monkeys).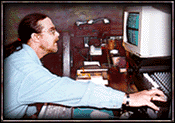 Shawn never learned to read or write music, so it was always difficult for him to get the music down as he heard it in his head, so he worked with talented people like Buckmaster to get the orchestrations right. He has discovered a fix for this, though: the Apple Macintosh. Shawn's been digging in, mastering electronic music and creating symphonic pieces on his Mac. "Because it's digital, and it changes pitch, instead of singing a triple-tongued trumpet line to the arrangers, and having them try and notate that exactly as I had sung it -- which is a hell of a feat -- I'm able to take something at 150 beats a minute, slow it down to 75, add what I wanted to hear, do the string arpeggios and all that kind of stuff, and then speed it back up. Consequently I was able to start writing classical music.
"Then I started sequencing: drums, bass, exactly as if I had a band on stage with me. But I did it a little differently. I'd program it perfectly, and then, say if I spent a week getting it absolutely note-for-note perfect, I'd spend two weeks saying, okay, this tune comes at this point in the concert; that means the piano player has had nine beers by now, so he's going to be playing a whole other tune from what we're playing. He won't even know what's going on anymore, man, which is the case with most bands. You know, he'll be leading the pack, but playing a whole other tune. So I would write that into each track: late snare shot, flubbed bass note, you know, stuff like that. It got to the point where you could close your eyes, and really hear the band on stage. It wasn't being played by computers anymore, you could actually hear the guys fuckin' up! It was a lot of fun.
"I had two childhood dreams, and they've both been fulfilled. I wanted to be a rock and roll star, and I wanted to drive a big red fire truck."
jzitt said:
One thing I liked about living in (of all places) Brooklyn, was that I could walk to anything I needed to get to. For that matter, I've lived over the years in two places in Austin where I didn't need a car except for getting to work: Riverside Drive a few blocks from I-35 (back when Half-Price Books was still there) and at the Northcross Apartments, across from the Northcross Mall and the Village Theatre. The Northcross location was quite nice -- I was off a walkway far enough, but not too far, from the parking lot. I ate at Furr's at the mall a lot -- It was actually closer to my apartment than the college dining hall was when I was a student, and the food was of comparable quality, so I sort of considered it the commune eatery. :-)
Most Active Topics:
Topic 4 Slacker: Austin or Anytown?
Topic 62 Conference Biz: Feedback and Discussion
Topic 113 Country and Eastern Music