tokyo - reiko
l.i.p. for electric ladies/japanese women online
I turned twenty-two on 8 January, 1997. I used the occasion to make a public announcement. No, not of my birthday! The purpose of the gathering (which attracted about 250 people) was to announce "The Lady's Internet Project" (LIP), whose purpose is to help women get online.
We held the event at Club Asia, a hip new joint that is also a Thai restaurant. Located in the Shibuya district of Tokyo where a lot of young people hang out, Club Asia has IP connectivity.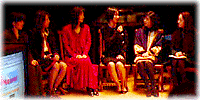 Though the Internet boom hit Japan last year (like so much of the world), very few women in Japan actually use the net. This year should see a big change in those numbers. Hopefully, organizations like the one that arose from my birthday/LIP party can help these women to adjust to life online. Even though I am lucky enough to have many young fans, just the fact that I use the Internet isn't enough to cause women to identify with this project. Thus it was necessary to involve many other women in the project.

I invited a group of women from various fields for an open discussion about our work and our experiences on the Internet. Each young woman described what she did for a living. We heard from a model who is also a PC instructor, a manga author, the publisher of Wired Japan, a computer game developer, and others. We all talked about how the Internet is changing our lives and about how other women might become empowered. In the course of the one hundred-plus lectures I gave last year (mostly for older business men), it seemed I was saying the same things over and over. So having a discussion with young women was especially exciting for me.

Nabe, my good friend and manager, composed and performed a wonderful song for me. Also, my new band Bambi performed along with video from Kurita of Studio Garage. Another friend, Yoshiyasu and Multi, the multimedia group she's with, also showed their latest work. It was the best birthday party ever.

In preliminary meetings, we had decided not to involve any ad agencies in this project. (You may not not know that ad agencies in Japan are a lot bigger and more powerful than those in the rest of the world, and they control most events and media content. Last year alone, Dentsu -- the largest -- did over ten billion yen in sales, while lowly ;-) Hakuhodo did seven billion.) In any case, we were determined to plan and develop the project ourselves without the support of traditional Japanese promoters. I set up an electronic mailing list on the Net to help us do this. The name of the mailing list is also called LIP.

To prevent the list from becoming too big too fast, I set it up as a moderated list.It's developing into an exciting small community with no lurkers and many inspired and talented young women. In addition to discussing issues important to Japanese women, we are also discussing more everyday subjects such as our favorite curry shops. It is much more direct and interesting to get information about a curry shop from someone who has been there than from a web page put there as an advertisement.

Businesswomen, housewives, daughters, and women of all ages can be found on LIP. The differences don't seem to matter: We all have something in common now. Unlike some Net communities set up by companies and universities, LIP is a personal matter -- something that we set up ourselves. I hope that many other such small communities pop up all over the Net in Japan.

Oh yes, and since I just turned 22, please feel free to send me birthday presents!
higa said:
From one side of the coin, the education here is too restrictive, repetitive, and rote. But... you do actually learn the basics, you learn more group skills, and the education is uniform throughout the country. I also think the 'must get into Todai' pressure is starting to break down and students are pursuing more diverse futures than the one path of old. I'll be faced with the decision of whether to send my son to international school or Japanese school much sooner than I'd like. I'm not sure which way I lean. I like the rigor of Japanese school but also want Jasper to enjoy the freedom of US schools.
Most Active Topics:
Topic 44 Wildlife
Topic 4 Tokyo wire.
Topic 25 the countryside and the village