sydney - jonathon delacour
anarchy in oz - comedian goes multi
Few Australian comic performers have inspired such intense loyalty or antipathy as the Doug Anthony Allstars, a trio formed in Canberra in 1984 by Tim Ferguson, Paul McDermott and Richard Fidler. Although the group split up in 1994, their anarchic blend of music and comedy lives on, not just in videotapes, books, music CD's, comics, and the memories of hundreds of thousands of fans but in dozens of Web pages.
Michael Shephard's DAAS pages will tell you more than you'll ever want to know about the Allstars; there's even a Finnish page that mentions them. Richard Fidler himself has written an article about CD-ROM and comedy while he and his wife, actress Khym Lam, rate a mention as one of the Internet Movie Database's famous married couples.
I first met Richard at a multimedia conference last year; he was chairing a panel on Screen Design. After the Allstars broke up, he had transferred his considerable talents to writing and producing multimedia. The move from performing comedy to creating multimedia seems incongruous. But to Fidler, it forms a smooth, coherent arc.
"I grew up in Sydney, Melbourne and Adelaide; then I fell into the punk scene at university in Canberra," he recalls. "The idea of a Canberra punk scene provokes derision if you live in Sydney or Melbourne. But Canberra is the perfect site for punk music. It's the Manchester of Australia: a boring sterile place, full of disastrous architecture where people have far too much money and nothing to do. Playing punk music convinces you that you can do anything, so we formed the Doug Anthony Allstars as a three piece busking group to earn extra cash to buy beer."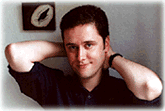 Before long, the Allstars were finding enthusiastic audiences in cabaret venues. In 1987, they moved to Melbourne to take the act full time. They hit a brick wall. Perhaps Melbourne wasn't ready for songs like
I Fuck Dogs:
I fuck dogs in the park after dark when the moon is a pie in the sky.

The Great Dane is too tall, chihuahuas are too small,

But the dog that I like to quell lonely nights, well the dachshound is best of all.

'Cause he's longer and he's thin, he loves to let me in,

His eyes swell with love, he fits like a glove, that's why he's man's best friend.
"We didn't fit into any established pattern. So we thought we'd better go to the UK where the comedy scene was a bit more diverse. There's no doubt about it, the UK is going down the tubes at a hundred miles an hour but one of the best things about the British is that humour is deeply ingrained in their culture. As audiences they are very perceptive and on the lookout for subtleties whereas Australians or Americans prefer to be brutalized, or to have the more obvious side of things put to them."
After performing at the Edinburgh Festival of Arts and winning the Pick of the Fringe award, the Allstars were soon appearing on a national British TV show, Friday Night Live. They returned to Australia in triumph to appear in a similar program called The Big Gig, then in their own show, DAAS Kapital. While they also toured extensively, they refined what Richard describes as the Allstars' "Nuremberg style of comedy."
"We would try to prod the audience into cheering for one side and then, just when they'd reached a state of hysterical fervor, to completely undercut them. We did a gig in a place called Wagga Wagga -- one of the most appalling shit heaps of a country town you'll never walk into. Anyway, there were four guys up the front, whose nicknames were Shit, Poop, Turd, and Herman, and they were yelling "Faggot", "Commie", "Pig", "Fuck Off", "Wanker" at us all the way through the show."
"Finally, Tim Ferguson said, 'Which one of you guys is in charge?' And Herman put his hand up. Tim told him: 'Herman, keep the others quiet.' And so Herman, having been appointed lieutenant by someone on stage, pummeled Shit, Poop, and Turd if they opened their mouths. Of course the audience thought this was hysterically funny. That's when I told Herman to go and round up all the Jews in the audience."
"Always set traps for them, that was a big part of our philosophy as a comedy group."
The Allstars returned to England and worked for a couple of years but in 1994, despite doing some of their best work, they decided to call it quits. Richard had become fascinated by new media and was working as an illustrator on a couple of CD-ROM projects.
"I've always been a huge fan of comic books and had created a few comics to sell as part of our retail merchandise. Then I realized that with a powerful-enough computer, I could create my own sort of comics -- put all this lurid colour into them and make them interactive and animated. And that struck me as enormously interesting."
Eventually Richard and Khym returned to Australia and settled in Sydney. Richard's skills as a writer and designer earned him acceptance among the multimedia community.
Richard still works in television, hosting a controversial cable chat show called Mouthing Off. But most of his time is spent on multimedia projects -- Radiant City (an interactive modernist ghost story set in a nightmare Venice whose architecture is that of East Berlin) and Real Wild Child (a CD-ROM for which he has designed an interactive environment that evokes the smelly clubs, smoke, filth, disgusting toilets, and junkies that make up the history of Australian rock 'n roll).
So: what is the real difference between performing and working in new media?
"Well, this is a big gripe of mine. Most comedians are funny human beings and generally quite happy. So if you're performing at a comedy festival, you sit round and tell stories and amuse each other; before you know it, it's about four in the morning, your stomach's aching from laughing, and you're so drunk you have to go to bed. Whereas you go to a multimedia conference and they're all either mad, popeyed evangelists or stuttering nerdy guys with bad hair who can hardly talk and get nervous when a girl comes and sits down at the table. So that's the main difference: the socializing."
mrjones said:
Yes, John Howard cynically jumped on the popularist bandwagon of banning guns...we were seemingly happy to cheer as he ripped half a billion dollars off us to buy them back. Meanwhile the mental health system collapses for lack of funds, the sick are pushed back into a sometimes hostile society for lack of suitable care for them. Let the gun lobby keep their guns, they're a dying breed anyway, I'd rather spend the half a billion on developing a system of care that could avoid the next Martin Bryant. And no, John Howard did not jump on the Hanson bandwagon, no real votes there. His lack of leadership and statesmanship on the Hanson issue has shown him up as the shallow coward he is. Can you imagine JFK or Martin Luther King telling the country that they were "not going to buy into that one" He's a constitutional monarchist and what's more he's dead boring.
Most Active Topics:
Topic 34 Adelaide
Topic 51 Racist Australia
Topic 47 Ask Zentropy.