sydney - jonathon delacour
the museum of sydney:
analog history, digital reinterpretation
In 1770, Thomas Gainsborough painted The Blue Boy, Louis - the future king of France - married Marie Antoinette, Thomas Jefferson began building Monticello in Virginia, and Captain James Cook landed on the east coast of Australia. It was not until eighteen years later, the British government having decided to establish a penal colony, that the first fleet of ships carrying their cargo of petty criminals arrived in Sydney to begin the white settlement of Australia.
When I was a child in school we were taught that Cook discovered Australia, the implication being that this vast island in the South Pacific did not truly exist until the British flag flew above its soil. The history I learned in primary school consisted of interminable lists of governor's names (Phillip, Macquarie, Bligh), and dates (1770, 1788, 1813), and rivers (Lachlan, Murray, Darling). The indigenous people, who had been living here for tens of thousands of years appeared occasionally, as bit players in the story of their own humiliation and annihilation. To be honest, we hardly gave them a thought.
So, in 1788, on what is now the corner of Phillip and Bridge Streets in Sydney, Governor Arthur Phillip built Australia's first Government House: home and office to the first nine Governors of New South Wales until it was demolished in 1846. In the 1980s archeologists excavated the site and eighteen months ago an extraordinary museum - the Museum of Sydney on the Site of first Government House (to use its proper name) - opened its doors.
Sydney, like any large city, has lots of museums but the Museum of Sydney is easily the best, although the qualities that I admire drive others to distraction. It is the only museum in Sydney to use digital technology with any intelligence and the only one that challenges the complacency of the Australian middle class. Not surprisingly, these two achievements are inextricably linked.
The Museum's exhibits give equal weight to the stories of the Aboriginal and European inhabitants of Sydney, a strategy which - given the bias of conventional history - seems almost miraculous. And, paradoxically, it is the digital displays which make this possible, by giving the indigenous people a voice which until recently they have mostly lacked. This achievement, while the result of the efforts of many individuals, can be directly attributed to two. The Museum's Senior Curator, Peter Emmett, had already established an enviable reputation for reinterpreting Australia's history. He engaged Gary Warner to assist him in creating a marriage between new media and traditional museum practice.
Although most curators would have taken the safe option - video - Gary knew that digital exhibits can be continually tweaked, evolved and added to as technology catches up with creative artist's ideas. He assembled a team comprising many of the best new media practitioners in Australia, giving each of them complete creative control over a particular museum exhibit.
"A museum is a wonderful space," Gary once said to me. "It's not television, it's not theater, it's not CD-ROM on a desktop, it's something that integrates all of these things, and more."
Outside the museum entrance, voices emanate 24 hours a day from five of the large poles making up Edge of the Trees a sculpture commissioned from Janet Lawrence and Fiona Foley, a European and an Aboriginal artist. Once inside, one is faced by the enormous Environment Video Wall, designed and implemented by Gary Warner and John Colette, consisting of of 33 Sony rear projection video cubes displaying a series of floor-to-ceiling photographic images of the landscape as it might have appeared at the point of European contact with the Aboriginal people.
One display case, the Trade Wall, is filled with items of trade which were available in Sydney in the 1820s. In another, called the Sites Installation, objects and artifacts of the period combine with video conversations - displayed on sheets of angled glass so that the faces float in space - between a whole series of imaginary Witnesses. These conversations offer an evocative sense of time, place, and event and also bring to the surface forgotten antagonisms: between white and black, gaoler and criminal, master and servant. A third display, Eora, links indigenous artifacts from the Australian Museum, two LCD screens displaying European images of the Eora people, and fragments of a film by Michael Riley.
Some years ago, in a previous incarnation, I was a photographer. One of my most pleasurable assignments was photographing artifacts from this period. My assistant and I would spend day after day making 4x5 negatives and transparencies of sketchbooks, oil paintings, and watercolor panoramas of Sydney and its environs. Understandably, my favorite display is the Sydney Panorama, created by Colin Grimmer and Heidi Reiderer. A single Lingo script controls two PowerPC 8100 computers displaying synchronized panoramic images nearly 4000 pixels wide on six Sony videocubes. To see these (actually) tiny images blending one into the other, on such a gigantic scale, is beautiful beyond description, a credit to the original artists and the two who have reinterpreted their work.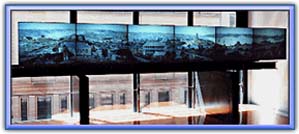 Unfortunately, the traditional museum and historical communities look resentfully at the Museum of Sydney. For them, history is transparent and need not be questioned while the digital displays demand too much of visitors who are easily satisfied with static displays and mediocre tableaux. But I trust that Peter Emmett's and Gary Warner's collective vision will be vindicated and that the forces of darkness will be vanquished. When you're next in Sydney, come visit the Museum of Sydney. It's magic.
mrjones said:
Yes, John Howard cynically jumped on the popularist bandwagon of banning guns...we were seemingly happy to cheer as he ripped half a billion dollars off us to buy them back. Meanwhile the mental health system collapses for lack of funds, the sick are pushed back into a sometimes hostile society for lack of suitable care for them. Let the gun lobby keep their guns, they're a dying breed anyway, I'd rather spend the half a billion on developing a system of care that could avoid the next Martin Bryant. And no, John Howard did not jump on the Hanson bandwagon, no real votes there. His lack of leadership and statesmanship on the Hanson issue has shown him up as the shallow coward he is. Can you imagine JFK or Martin Luther King telling the country that they were "not going to buy into that one" He's a constitutional monarchist and what's more he's dead boring.
Most Active Topics:
Topic 34 Adelaide
Topic 51 Racist Australia
Topic 47 Ask Zentropy.