close encounters of the austin kind: willard uncapher
austin - jon lebkowsky
I am looking at the rise of 'Network Societies' not as displacing 'meat reality' but as redefining boundaries about the online and the off, boundaries about the identity of place, community, person, and history. I am also looking at the re-organization of power, and at what I am calling the clash of the two information economies. I am looking at the ecology of local communities problematically attached to one another and to the earth.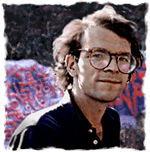 From our first online meetings I figured Willard Uncapher for a crusty but spiritual art maniac, never suspecting that when we met he'd prove to be a field-hippie academic with an elfin grin, a dry wit, and an abiding lust for life. He has a degree in Indic and Iranian philosophy and culture. His job du jour is doctoral candidate at the University of Texas at Austin's School of Communication, where he works with Allucquere Rosanne (Sandy) Stone at the Advanced Communications Technology Lab (or Actlab) and teaches the core course on "Communication Technology and Society". Though he's been in Austin for a while, when we first met, his body was in New York, where he was teaching at NYU ("The History of Communications: From Paleo-anthropology to Cyberspace"), while his disembodied essence was riding the wires.
Willard discovered that with PC-Pursuit he could connect to BBSs in 42 cities for a flat rate of $25 a month. This was before you could buy an Internet connection from a provider, and way before the first weaving of the World Wide Web. Says Willard, hanging out his best cowboy metaphor, "I would ride the high cyber-range across the nation, looking to see what was out there." Austin he discovered when he logged onto the Illuminati BBS, Austin game designer Steve Jackson's virtual hangout for game dweebs hot to beta-test role-playing games in the Generic Universal Role Playing System (GURPS) series. Though Willard wasn't into role playing games, he dug the reference to the Illuminati, "that mysterious 18th century underground group who had been the center of so many global conspiracy theories."
Willard, who had hiked the Himalayas and Tibet and lived at exotic ends of the earth, such as Paris, France, and Zagora, a small camel trading outpost at the edge of the Sahara Desert in Morocco, eventually moved to Austin, Texas, saying "This is where the juice is." But he's still wired for virtual travel....

Willard describes himself as a surfer of "hybrid online-offline environments," researching the community networking scene, especially Montana's Big Sky Telegraph, where he gets down with non-typical cybernauts -- ranchers and Native Americans who see the Internet as a tool for survival. Here's a realization of Gregory Bateson's "pattern which connects," -- a transcendent spiritual glue that holds the human community and the fabric of life together. The Internet and the World Wide Web are both manifestations and symbols of that connection, but it sounds like woo-woo stuff 'til you connect it to a real-world functioning community like Big Sky.
As Willard studies the impact of technology on rural society in Montana, he also catches the impact of the society on technology. The evolution of wired community, he says, depends on a complex co-evolution of spatial relationships and material power, of global with local, of material and immaterial resources. Many theorists miss the nature of complexity in distributions of culture, overlooking the extent to which global and local, "large" and "small," "high" and "low" cultures interact in a networked environment, where traditional hierarchy is significantly less meaningful. They hear the notes but not the music. Willard's different; he hears the music, does the dance. He epitomizes for me the embodiment of worldwide jam as wired phenomenon cum cosmic dance...sufi dervish jam cum cross-cultural mambo that is essential to Austin's flavor, which is way spicy, very hot.
Join us in conversations to talk about Austin as cultural nexus/jam central!
Check out Willard's articles and abstracts.

Take a look at the Actlab.
windwalker said:
I am once again a very small child exploring the paths through the Montana woods and find a place of total enchantment where there lived a very wise old man who taught me to talk to the fairies on their huge sunflower telephones and walk down a magic path to where the trout filled pond lay glistening in the sun. An old dead tree stump, carved with nitches here and there and a crow's nest sat atop it waiting for its owner to come cawing back, while I, in awe and wonder, saw a Fairy Post Office which held from time to time, a pack of Wrigleys Juicy Fruit gum, a string of pearls or a nail set to fix my nails. How I loved that gentle soul and often wished his tale be told. His name was Hawkins and the place was Absarokee, Montana
Most Active Topics:
Topic 31 What would you do if you & your love where the last people on the planet???
Topic 8 Who writes poems
Topic 53 CHESS