mark petrakis welcomes you to the 3DUBDOTJAMARAMA!
mark petrakis
We called this a Jam because we didn't want to know what its outcome would be. We felt it needed to be World Wide in scope, because there had to be the opportunity here for anyone to participate.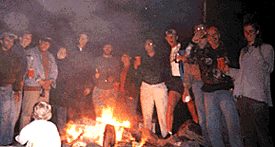 The jam structure is loose in such a way that participants must each set their own limits. To do this effectively, requires that everyone LISTEN and ACT COLLABORATIVELY. When that happens, it sets off positive feedback. Suddenly, placing the interests of the ensemble above your own, is experienced as preferable, as downright inspirational. Gradually, a shared sensibility emerges, one that moves to support the ensemble as it drives the Jam to its unpredictable outcome. Little bit of magic in the notion of a jam. And a whole lot of unknowing.
A little more real, a little less serious.
So, what we're looking for here is something a little more than virtual, something almost real. I know the World Wide Jam thing sounds a bit pretentious. But you see, it's just a nebulous baby pajamarama now, just taking its first steps. We're going to goof up here, make mistakes, that's for certain. Unknowing demands nothing less.

To start with, we've loaded the stage with some stories to tell. We'll do our best to tell them well and change them often. Each of the stories here, as elsewhere on the site, refers to and is directly linked to areas where related conversations can evolve. There are 9 locations represented at the top, with writers and conversation hosts for each. We expect the cities and the number of writers to increase and to change over time. In the course of conversations, the need for civility in our interactions can't be ignored. Without a little respect, we cannot focus; without listening, we are talking only to ourselves. And we know how far that takes us.
There's the eye and there's the screen
You see, instead of sucking up a headful of virtuality here, we're going to try to stick close to the world. Why? Because psychic-kicks and head-wows aside, that's where the fun is, that's where we live. This of course, necessitates also sticking close to the only real thing that we have going here, namely you and me. The rest is just so much media, isn't it? I mean, it's fun stuff. Mash it and mix it up, press it and decompress it, make it beautiful as can be, but you just can't make it real.
A real short story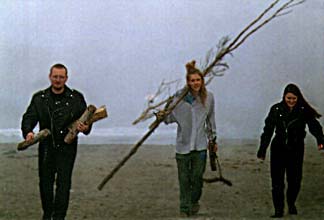 Some weeks back, I jumped into the car one night with some beer and some wood, and headed up the coast to Muir Beach for a bonfire with the gang from Minds. They had plenty of beer but were short on wood. A search party had gone to find some. Suddenly there, coming out of the dark fog, we saw them returning, a couple scrawny pieces of wood among them, with Justin in the center holding a tall tree branch. We put a Minds t-shirt on that branch and pushed it into the sand. Everyone cheered. It was a simple moment, but it was real. We all knew what it meant. Sometimes, you do need a flag more than wood.
Just a closer talk with thee.
The Jam I see is like that t-shirt flag, it's a symbol, it's a call to something basic. Who answers it, is who answers it. We don't know. We're open on this. Make your own flag. Call it what you want. We could have many flags here, many symbols, many different voices. If it's going to be a jam, then it's going to be that way. You and others like you are coming through, and this 3DubDotJamarama is either going to adapt itself to serve your interests, or we're going to get steamrolled and left for history to unpack. But if we survive the narrow time ahead then maybe, just maybe, this infant enterprise will begin to walk on its own. And won't that be a splendid photo opportunity for us all. So, what do YOU say, let's drop in to Flash CONVERSATIONS and see just what kind of jamological mojo we've got here among us.
windwalker said:
I am once again a very small child exploring the paths through the Montana woods and find a place of total enchantment where there lived a very wise old man who taught me to talk to the fairies on their huge sunflower telephones and walk down a magic path to where the trout filled pond lay glistening in the sun. An old dead tree stump, carved with nitches here and there and a crow's nest sat atop it waiting for its owner to come cawing back, while I, in awe and wonder, saw a Fairy Post Office which held from time to time, a pack of Wrigleys Juicy Fruit gum, a string of pearls or a nail set to fix my nails. How I loved that gentle soul and often wished his tale be told. His name was Hawkins and the place was Absarokee, Montana
Most Active Topics:
Topic 31 What would you do if you & your love where the last people on the planet???
Topic 8 Who writes poems
Topic 53 CHESS