| | |
| --- | --- |
| | by Jill Davidson |
When Alberta Jarane moved to New York City from San Francisco in 1993, she wanted to hook up with the local scene. In early 1994, she became haaja on New York Online, a small new black-owned BBS. As a production manager for the design firm Belk Mignogna Associates, she knew computers inside and out. She'd done IRC; she'd been around the Internet block. This time out, Alberta was looking for a way to learn the local buzz from her peers, technically adept young professional people of color who were from New York, who "told you the stuff you wouldn't know unless you were native."
Alberta was one of the first to find New York Online. She's seen its attempts to retain the energy that a close-knit, geographically and culturally similar group of people can generate. This energy, the vibe, is much of what makes New York Online unique and successful. But it's a fragile entity, especially in the face of the monster growth of the World Wide Web. Local vibe equals magic synthesis and community. The Web, in the form of corporate website development, equals money and action. The Web's funk factor is low, but the financial angle cannot to be ignored, and Omar Wasow, the founder of New York Online, is caught on the horns of this dilemma.
Wasow started NYO in the first months of 1994, not long after graduating from Stanford and returning home to New York. He still operates New York Online from his apartment near the Fort Greene section of Brooklyn. Wasow knew there was an audience like him -- hip, NYC-based, technologically savvy, interested in affiliating with other people of color: a group, he says, "not historically considered part of the digital frontier." For New York Online's conferencing interface, Wasow chose FirstClass BBS software.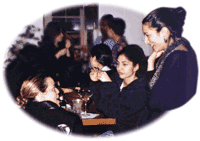 Keep in mind that this was early 1994. The Internet was humming along, but the Web hadn't taken over yet, not by any means. Internet access didn't seem immediately necessary to the group of like-minded friends and acquaintances that Wasow saw as the base of his community. So a local BBS -- easy to install, easy to customize, easy to use, and easy on the eyes and ears -- was a sound choice. The point-and-click interface, with its cartoonish icons, wasn't intimidating and dial-up was cheap for the user, less than ten dollars a month. Initial barriers to participation were few, and people like Alberta Jarane, attracted by word of mouth, bonded quickly online, creating a strong vibe. As Wasow says, "Our greatest appeal is that we have a well-defined, unique community with strong ties to each other and New York City."
Vincent Badger/vesp: I use the name "vesp" on line. ("vesp" is short for "Vespucci," my pet parakeet.) I had been using AOL, and I understood that with New York Online I would find a service that was cheaper and local. It was just what I was looking for, because most of the extra stuff on AOL was stuff I didn't use, and I didn't like their time limit, because I'm disabled. I type very slowly and can't watch the screen as I type. So "chatting" was something I avoided on AOL.

I have Multiple Sclerosis, which leaves me wheelchair- bound and house-bound, and has affected my speech to the point where I can't talk on the telephone. So the online world that New York Online opens to me has been my real world. The main question I came to New York Online with was "Who are these people and what are they like?" Gradually I came to think of New York Online as a "fair field full of folk" (from William Langland's 14th century poem "The Vision of Piers Plowman"), where I could have social interactions and learn and tell something about myself and the real people behind the screen.
New York Online grew. Wasow's Stanford classmate Peta Hoyes (who later left her full-time position with the company, though she remains an online participant) came on to help guide NYO's social and technological development. The press started to take notice in the summer of 1994, and articles appeared in The New York Times, The Village Voice, Newsweek, Fortune and a stack of other publications. Wasow's August 1995 appearance on The MacNeil/Leher Newshour was the icing on the cake in a year of great media coverage.
Faith Pennick/mediadiva: Omar and Peta started New York Online with a sense of purpose. They had a mission and it wasn't just to make money. They felt that people of color were underrepresented on the 'net and they wanted to bring people of color into the fold, to make a safe place to converse and make that community flourish. People of color are still very much the minority online. What you need is a forum where there are more of us, where you don't have to explain yourself over and over.

In predominantly white environments, you self-censor. Quite often socially or at work or in class, there are one or two people of color. My views are often really different from those of everyone around me, but I don't want to explain that all the time -- it may be a detriment to how I am perceived. On New York Online, it is refreshing to talk to people in my age range, from New York and specifically from Brooklyn, where I live. People there tend to speak as informed citizens and talk about life experience that tends not to be covered in the media. I get to have conversations that are full of reasoned thought, on issues like Ebonics and O.J. and how all that affects us. There are pros and cons to certain issues, there are people who think an idea is good and there are people who think it's crap, but they have a real conversation.
Though it didn't have thousands of users, New York Online soon became the largest African-American owned online system in the country and home to a group of users with close cultural and geographic affiliations. And it established itself as a unique place where people of color could feel some fellowship and mutual understanding. People of color constitute 75 percent of New York Online's population, and over half of the community is female.


photograph of Jen Bekman by
Adriana Ahearn

Jen Bekman/jenb: Most people on New York Online share certain assumptions about race and culture that do not have to be worked through online. Really intimate, difficult things get discussed. There are threads in the Body Politic conference about whether a black person can be a racist. But people are also willing to move beyond disagreements. That discussion about racism is an issue that is not resolvable in a public discussion forum. On New York Online, people had enough shared cultural ground that they stopped discussing it and agreed to move onto the next level. And that's when the really interesting conversations started. Conversations about single motherhood and dating, for example. There's this whole myth about single mothers, but you never hear how people's lives actually play out. Quite a few women on New York Online are raising children on their own and are dating now. They're talking about that in a real and honest way and not apologizing for it. And black men talk about dating women and dealing with the fathers of their children. To be able to discuss those things at all online was amazing, and for me to be able to listen was more of an education than any class or book I could read. These were people being people. Once you get past apologizing for who you are and the way you live, that's when the real shit happens.
And as the media took notice, so did customers in New York and beyond, not only people interested in participating in New York Online but also corporate customers who liked the company's image and reputation. More and more staff resources headed in that direction. Around the same time, FirstClass BBS became net-capable. The BBS system wasn't on the Web, but it was able to link to other FirstClass systems. Partnerships formed -- with folks in Japan, with the San Francisco Bay Guardian BBS -- and while those partnerships advanced NYO onto a larger stage, they threatened its intimate atmosphere. Alberta Jarane appreciates the external partnerships. "I support the San Francisco connection because Bay Area people and New Yorkers are not shy about their beliefs. The recent Body Politic discussion about Ebonics, for example, was a great opportunity for exchange and debate." Others are not so sure. Jen Bekman notes, "One of the problems with the Guardian gateway has been size. They have something like four thousand people and accountability is a problem there. People who come into the Body Politic conference and post anti-Semitic and racist stuff."
With these partnerships, continued favorable press and word of mouth, participation in New York Online continued to increase dramatically through 1995 and 1996. While Wasow and his colleagues worked to build up corporate web development and new media consulting, the needs of users and the cost of dial-in connections began to mount. "I think that the press did us a favor in that it got us a lot of attention and a lot of people," Bekman observes. "But we never had the resources to support those people." Though New York Online had acquired a connection to the 'net and TCP/IP accessibility, many customers still dialed in, and this required staff to spend time on support issues. To enhance the users' experience, Wasow added access to Usenet newsgroups -- but that required staff maintenance, too, and it proved to be too much. The Usenet feed didn't work well. Alberta Jarane believes that this was "frustrating to lots of people. NYO lost some of its original core group, people who were savvy on the 'net and were participating because of the community."
Wasow concurs: "The technology we are using now is a problem. BBSes in general are facing hard times in this age of overwhelming enthusiasm for the Web. It's hard to explain to people why they should subscribe to something that isn't on the Web. So we can plan for Web based access to take advantage of that enthusiasm, but we would lose a lot of our character, our core community, without dial-up. It takes more than easy access to make people show up every day. And if we broaden our access, how are we different from the WELL or Echo or AOL? These are some of the drawbacks of the seemingly alluring Web."
As 1996 rolled on, Wasow found more personal success, landing a gig as a commentator on MSNBC and increasing his roster of web development and consulting projects, which he describes: "Our main work outside of New York Online has been consulting with larger corporate clients who are interested in the expertise we developed while creating New York Online. We've worked on a wide range of projects -- a site for The New Yorker at the beginning of the year, a current site for Consumer Reports, a site for a business consulting firm. We've also been doing a lot of work with non-profits like Stand For Children and The College Board. Much of the work has tapped our expertise producing more participatory online content. Clearly this is an outgrowth of the community model of New York Online where the audience is the content." This business is based in large part on the triumph of the NYO virtual community, which was successful because it was intimate and local. Wasow needs to go where the money is: to the web, the same web that threatens to dilute NYO's vibe. Small worked well for NYO, and Wasow and others there have not yet settled on a growth strategy for the online service.
This winter, activity on New York Online has slowed a bit. Most of the regulars are still there, new people are joining, some conferences are still hopping, but NYO seems to be in a holding pattern. People are waiting to see what Wasow will do next. Jen Bekman worries about this. "We want to see it stay around but it's really hard. No one yet has created a profitable model for community." Despite social and technological concerns about the Web, Wasow feels it's ultimately the way New York Online needs to go. "In a year, I'd like to see us to have ported much or all of the BBS to the web. Perhaps we can join with another company and use its software to do this, or we can spit and tape and hack something together on our own. I doubt that we'll be able to do it in one integrated move."
No matter what happens, most of New York Online's community remains powerfully loyal. Many have expressed their concern for the system's future; it's clear that people want very much to hold onto their community somehow. Faith Pennick observes, "This has been such a worthwhile experience. Omar and Peta have done a great job. I really support what they're doing, and more people of color and more women should bridge the gap. I hope that other people create forums or networks and share their experiences. It shouldn't be just New York where this is happening." Alberta Jarane adds, "I applaud the efforts of Omar and Peta in the beginning, and now Omar. What they have done is phenomenal. People like me and other members of the NYO community can offer ways to help and sustain NYO. I am available."
| | | |
| --- | --- | --- |
| | | Gisela Gaulden (Simeon@nyo.com) and Ricco Keyes (lion@nyo.com) |
The dilemma that Omar Wasow and his colleagues face is echoing among many local bulletin board systems. All over the world, BBSes are facing the challenge of staying small and intimate - arguably necessary qualifications for any kind of community - while devising ways to stay afloat financially. Jen Bekman succinctly observes, "You pull the plug on it and it's gone but you let it languish and it's gone, too." Omar Wasow and his colleagues are hoping to avoid those fates and are seeking a way to focus on income-generating business while keeping NYO's heart and soul alive. Stay tuned to New York Online. Smart money says that if anyone will find a way to make it work, they will.
Jill Davidson would like to thank Omar Wasow, Jen Bekman, Alberta Jarane, Vincent Badger, Faith Pennick, Ian Spalter, and Doug Coleman for their time and assistance. An extra thanks to Jen Bekman for the NYO party photographs.
minni said:
What I find interesting is that most of the "environments" for VCs ( for example, chat rooms like the Palace) all have identifiable artifacts derived from real world, such as rooms, doors, places. The funny thing is that they are merely backdrops to help citizens navigate through the web of passages, and they do not provide any experience of the "place" like physical places do. Let's say we want a monumental public plaza that celebrates the pride of civility. How the heck can do we that?
Most Active Topics:
Topic 3 Introduce Yourself!
Topic 39 Musicians Unite!
Topic 62 Ex-cons - Should they get a second chance?